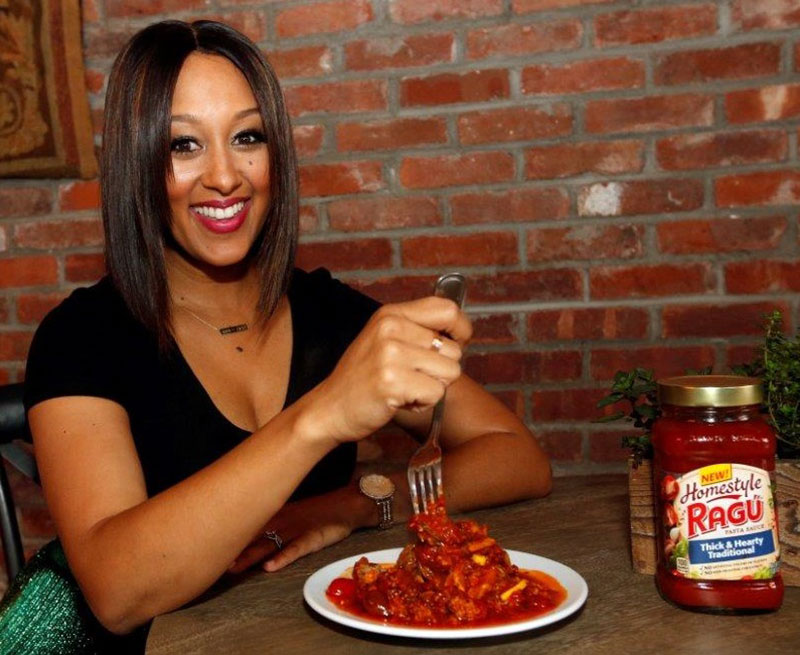 (NewsUSA)
– Sponsored News – As a busy working mom to two young children, Tamera Mowry-Housley, co-host of TV's "The Real," understands the daily challenge of juggling her time between home and work. However, family time is of the utmost importance to her, and she still sets aside time to cook meals with her family almost every night. She encourages other parents to reclaim family dinner nights, and there's no better time to start than summer, when the days are longer and the weather is perfect for backyard dinners.
While it may sound daunting and time-consuming to prepare dinner after a long day at work, it doesn't have to be. To make cooking easier, the RAGU brand has launched its new line of RAGU Homestyle sauces that have a heartier texture and a bolder flavor. Even the most demanding home cooks would be proud to serve new RAGU Homestyle sauces to their family, including Mowry-Housley.
"I'm a busy mom, but I make it a priority to set aside time to unplug and connect with my family over a meal almost every day — products like RAGU Homestyle sauces help me do that quickly and easily," said Mowry-Housely. She partnered with the makers of RAGU because dishes made with quality ingredients are must-haves at her family's table, year round.
RAGU Homestyle Sauces contain no artificial colors, no artificial flavors and no high-fructose corn syrup. "The great ingredients and made-from-scratch taste make me feel good about serving RAGU Homestyle pasta sauce to my friends and family," added Mowry-Housley.
With its new line of sauces, the RAGU brand is honoring its rich heritage by using the tried-and-true cooking methods inspired by its founder, Assunta Cantisano, who started selling homemade pasta sauce in 1937. Made from a bold combination of vine-ripened tomatoes, onions and fragrant herbs and spices such as basil, oregano, fennel and ground black pepper, the ingredients are peeled, chopped and simmered to perfection. The result is a thicker and heartier sauce that hugs pasta perfectly, making it an easy choice for family meals.
With the variety of sauces available — Traditional, Meat, Mushroom, Roasted Garlic and Four Cheese — there are many summer-inspired dishes you can create. For recipe inspiration, Mowry-Housley recommends watching a delicious grilled chicken parmesan and zucchini noodles recipe video featuring RAGU Homestyle Traditional. The recipe was developed by lifestyle influencer Dzung Duong of the popular YouTube channel "Honeysuckle," and can be found here: https://youtu.be/S3QVZ6bxt8E.
For more information and additional recipe inspiration, check out http://www.RAGU.com and follow along on Instagram, Pinterest, Facebook and Twitter.
original post by http://www.newsusa.com/articles/article/tamera-mowry-housley-encourages-parents-to-reclaim-family-dinner-nights.aspx at NewsUSA Family