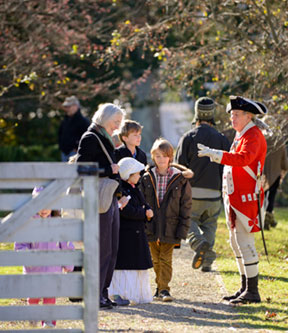 (NewsUSA) – If you are fanatical about American history — especially the Revolutionary War — then the new "Patriot Trails" might be just for you.
Produced by the Valley Forge Tourism and Convention Board (VFTCB), Patriot Trails is a comprehensive touring adventure designed to illustrate the dramatic struggle for independence for modern visitors. The self-guided Revolutionary War journey uses web-based mobile technology to tell the richly detailed story of the Revolutionary War as it unfolded throughout Montgomery County, Pennsylvania. Best of all, the transportable information can be accessed while visitors are onsite at the significant locations — or even en route.
"Most people recognize the role that Valley Forge National Historical Park played during those crucial years of 1777 and 1778," says Edward Harris, vice president of marketing and communications for VFTCB. "What visitors — and even locals — may not know is that the encampment that was housed there is just one aspect of a much larger story."
The customized itineraries highlight 16 historic sites in all areas of the county. Notable destinations include Peter Wentz Farmstead in Lansdale, which twice served as Washington's temporary headquarters, and Hope Lodge in Fort Washington, the site of a six-week encampment prior to the winter in Valley Forge.
"What we are doing is telling that tale by showcasing other significant historic sites throughout Montgomery County," says Harris. "The information for our trails is formatted for mobile devices. Our website's responsive technology enables history buffs, families, students and groups to access information on the go."
The Patriot Trails website breaks the exploration down into manageable options, depending on how much time a history buff has. Designed for all ages, the itineraries range from half-day to multi-day and can be customized. The website also highlights the men and women who committed themselves fully to oppose the British crown, offering mini-biographies.
"We are very excited about this tour," says Harris. "Its success can be replicated to enable visitors to experience our great county in a whole host of ways, from military history beyond the Revolution to arts and culture destinations to retro theaters and brewpubs."
For more information, visit www.patriottrails.com.
original post by http://www.newsusa.com/articles/article/patriot-trails-offers-new-way-to-experience-revolutionary-war-history.aspx at NewsUSA Travel