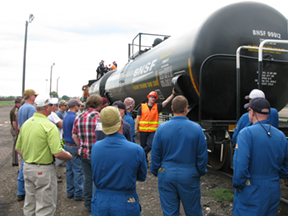 (NewsUSA) – A train rumbling down the tracks is an iconic part of America's landscape. For many, it represents economic empowerment — a way for businesses to efficiently transport goods to market. America's increased energy production offers a good example of how rail is contributing to a growing economy. Though still a relatively small part of overall rail traffic, crude oil has increased as a percentage of rail cargo, and oil trains have become more common.
Though rail is one of the safest ways to transport crude oil, the addition of that cargo brings inherent risks.
This is a heightened concern for the Twin Cities, for instance, where six trains with 100 or more crude oil tank cars pass through every day. In the unlikely event of a derailment, local officials told the Minnesota Star-Tribune that "to fight a significant oil-train fire, local fire departments would need help from railroad emergency crews."
This is why BNSF Railway, a regional crude hauler, has created a free railroad hazmat-response training program. To date, the company has provided training to more than 65,000 emergency responders, or about 4,000 local emergency responders per year.
"It is in our interest to prevent any accident and injury, which is why we invest so much in safety," said BNSF Railway spokeswoman Amy McBeth.
While BNSF Railway's program has been in place for almost two decades, the railway understands that more can be done and the program can always be redefined and updated.
BNSF has specialized equipment and hazmat responders staged across its network to deal with hazmat and crude oil incidents, including firefighting and spill cleanup, more than 250 trained hazmat responders at 60 locations and a geographic information system for emergency incidents that enables the company to quickly identify emergency responders closest to any incident along one of its lines.
In addition, the company has developed and shared geographic response plans with state and local emergency response organizations in many areas and has also provided a computer-based emergency-response training program on hazardous materials to every fire department within two miles of its rail lines.
BNSF's desire to raise awareness about emergency response and to train first responders comes at a time when Congress, the Federal Railroad Administration, railways and tank car manufacturers are all studying rail safety to ensure transportation of crude by rail is as safe as possible.
For more information, visit www.bnsf.com.
original post by http://www.newsusa.com/articles/article/railway-emergency-training-keeps-responders-on-track.aspx at NewsUSA Travel