The life expectancy of a newly born baby in 1950 was 65.6. Today, the life expectancy for a newly born baby is closer to age 78. And, everyday life expectancy increases. So much so that respected medical experts are now projecting life expectancies beyond any one's expectations. In fact, according to the medical journal, The Lancet, more than 50% of babies born today will live to age 100 and older. To learn the age that you might reach, breathe in, and see below
The estimates on the chart below come from some of the most respected names and brightest minds in America. I am going to sound arrogant unless you read the next two sentences slowly: "I have a great deal of money if I die soon. But, I may not have enough money saved if Mrs. H or I live to age 94 and there is a 50% plus actuarial chance of that happening." Plus, if inflation averages 4% plus like it has since 1973-2012 and if interest rates remain low, I know for a fact that I do not have enough money. Will you have enough saved? You can, if you read this entire book.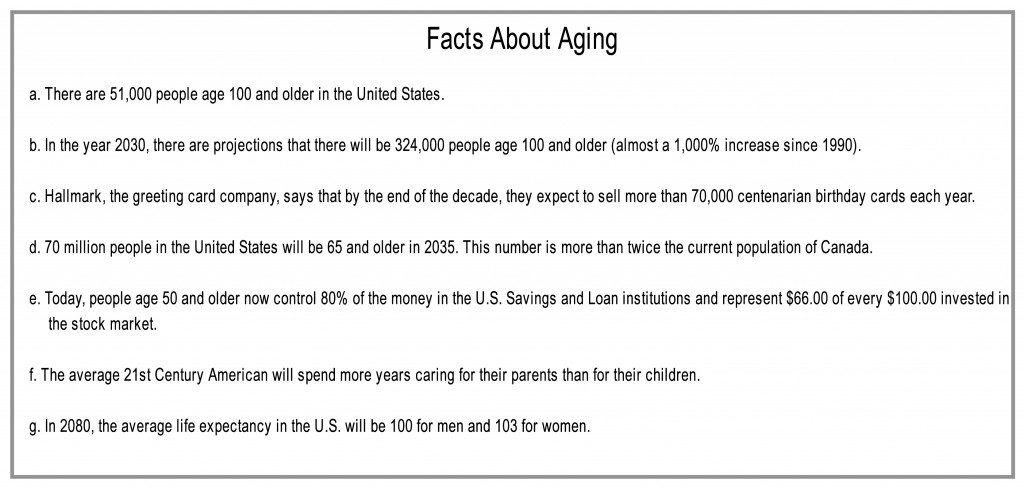 Sources: (a) 2000 U.S. Census Bureau, (b) Augusta Chronicle, (c) Living To Age 100, T. Perls, M. Silver, and J. Lauerman, (d) Age Wave, K. Dychtwald and U.S. Census Bureau, (e) Age Power, K. Dychtwald, (f ) Age Power, K. Dychtwald, National Association of Area Agencies on Aging, 1998-99 National Directory for Eldercare Information and Referral (Washington, DC. NAAA, 1999), (g) Dare To Be 100, W. Bortz II, M.D., International Journal of Forecasting, K. Manton, Duke University.
What is best for you depends upon your circumstances. Turn the page to learn what your next steps could be. This secret is not investment advice, but it is a suggestion that you should think about your retirement savings regularly.